The PLANETBOOK Floorgame at the Toy Fair in Dresden!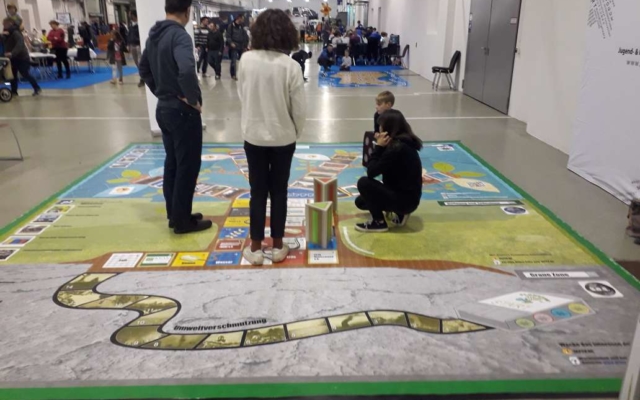 On the 7th and 8th of November 2019 the JKPeV team was invited to present the PLANETBOOK Floorgame and the PLANETISE project at the Toy Fair in Dresden. We informed the visitors about the PLANETISE project; its aims and outputs and had the chance to play the PLANETBOOK Floorgame with children and youngsters from different age groups as well as with their parents. Furthermore, the JKPeV team was given the opportunity to expand its network and meet several environmental educators and trainers who are keen on introducing the PLANETBOOK floorgame in their educational sessions that are focused on the environment.
The Toy Fair took place at the exhibition centre of Dresden and was an intergenerational event. From creative design up to social or multimedia games and outdoor activities young and old could play and try out several entertaining games and toys. For parents, the event provided an excellent opportunity to get to know the latest trends in toys and to try them together with their children.
The Spielraum/Toy fair took place on 2 days from Saturday, 07. November to Sunday, 08. November 2020 in Dresden.
It was a very exciting weekend indeed! We are already looking forward to introducing the PLANETBOOK Floorgame and playing it with young people from different age groups (12+)!